Nancy Stopper writes small-town contemporary romance with sexy heroes and strong heroines.

The next book in the Harper family series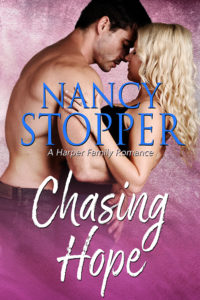 CHASING HOPE, book 2 in the Harper Family series is now available. CHASING HOPE explores the challenges of finding love again. Justin and Maddie were married eight years ago but their marriage has reached a point where Justin moves out. But he isn't ready for their marriage to be over. Instead, he wages a campaign to get his wife to fall in love with him again all while dealing with struggles in the family business and new challenges introduced into their family.
Fans of contemporary romance and women's fiction alike with love CHASING HOPE with a compelling journey for our hero and heroine and a guaranteed happily ever after.
Click here for more details about CHASING HOPE.
Purchase CHASING HOPE exclusively on Amazon or download it for free on Kindle Unlimited.
Amazon US | Amazon CA | Amazon UK | Amazon AU