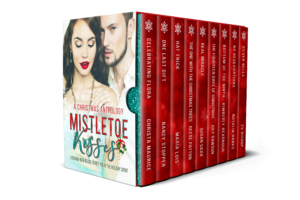 Mistletoe Kisses goes off sale next Sunday!
This week is your LAST CHANCE to get NINE holiday romances all in one box set. One Last Gift, book 5 in the Oak Grove series, is included in this box set. If you haven't read Jack and Casey's second chance story, now is the chance. And the added bonus of eight other authors for you to discover.
Each of the stories will be published individual by their respective authors at some point in the future, but now is the time to get 9 stories for the great price of $3.99. Next Sunday, the box set will be taken down from all retail sites!
Click on the link for your favorite retailer to pick up your copy now!
Amazon US | Amazon CA | Amazon UK | Amazon AUS