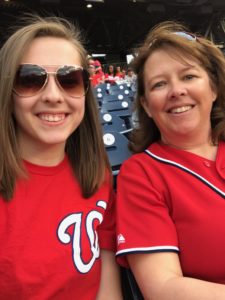 For those in the US, yesterday was Mother's Day. How do you define Mother's Day, you ask? Well, for me, I've always joked that I'd like it to be the ONE day that I didn't have to mother. And yes, mother is a verb as well as a noun. I mother every day of my life. I became a mother the day my oldest was born and I'll be a mother until the day I die, no matter where my kids end up in life.
For many years, Mother's Day was spent at the baseball field watching Michael play travel baseball. He's moved beyond that stage of his baseball career (although I get to see him play against his rival team tonight, so yay!) My oldest just finished her sophomore year of college and will only be home about a month before she heads back down to do orientation. We'll then see her for a few weeks in July before she's back to school for early job training before next year starts. So, I took the opportunity yesterday to combine two things that I love: baseball and my kids. Samantha and I took in a Washington Nationals game last night! And it was a bonus night – Trea Turner bobblehead night – so Samantha was especially excited about that.
Are you a mother? How did you spend your Mother's Day? Did you celebrate your mother?