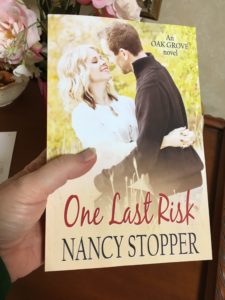 One Last Risk, book 1 in the Oak Grove series, releases in 1 week! There have been a flurry of activities leading up to the release, one being the formatting and proofing of the print edition. Isn't it pretty!
There's something about holding the results of more than 16 month of writing and working and reworking Lucas and Sarah's story, just to get it perfect. To run my fingers over the words that I agonized putting on the page, to see my name as the author running along the top of the pages.
The early reviewers have all been responding so positively – their feedback is heartwarming. I especially love this review from Teresa on Goodreads that started out: "How do you begin a review on a book that had you laughing, crying, cheering, wondering, and droves of other emotions?" 
And Ann-Maree on Goodreads says: "Your heart will break, will laugh, will cry and will love with these characters while you read this wonderful story that Nancy Stopper as written."
I'm thrilled that the readers are reacting to Sarah and Lucas's story exactly as I had hoped.
One Last Risk releases on April 18th. It's currently on pre-order at the special price of $2.99. That pre-order / release week price won't last forever, so if you want to save a little money, pick it up now from your favorite retailer:
Amazon Kindle ebook: http://smarturl.it/OneLastRisk_AMZ
Amazon print: http://amzn.to/2puIV2g
Barnes and Noble: http://smarturl.it/OneLastRisk_Nook
iBooks: http://smarturl.it/OneLastRisk_iB
Kobo: http://smarturl.it/OneLastRisk_Kobo
Google Play: http://smarturl.it/OneLastRisk_GP