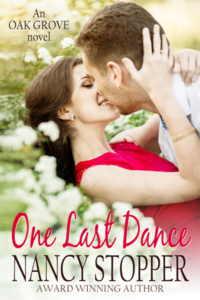 This past week has been consumed with activities around the release of One Last Risk. Thanks to all of the readers who have purchased their copy. If you haven't, make sure you click over and buy it now! The price goes up from the Release Week Special later this week.
In the meantime, my focus has shifted to the next book in the series, One Last Dance. The inspiration for this book actually niggled at me first, but it wasn't the right book to kick off the series. But finally I'm ready to start sharing Joey and Brittany's story.
The initial inspiration for Joey and Brittany meeting came from a Brad Paisley song. I love to listen to country music and this one just spoke to me – telling me there was a story there.
http://mp3t.win/music/we-danced-brad-paisley.html
Click here to listen to Brad's soulful crooning as you read about Joey and Brittany's story!
Blurb:
A sophisticated city girl, a small town guy. Will their differences drive them apart or will they they discover that home is where the heart is?
When the only girl Joey Bennett ever loved stole his heart and sped off to the city lights, he swore he'd never again surrender his heart or be measured by someone's big city ideals. Love is for chumps. Trust is only given to family and locals who care about him for who he is, and what he isn't. But when a beautiful stranger dances into his bar, he takes up the challenge to prove that his hometown is different.
Brittany Carlson hates small towns after growing up where the old boy's network turned a blind eye to her father's abuse, destroying her mother's life… and her own. She left that hell in the rear-view mirror the minute she turned eighteen. New York City is her new hometown where her neighbors are friends and everyone looks out for each other. They keep her safe. But a weekend visit to Oak Grove and one dance with a sexy local threatens to change… everything.
Joey is not like any guy she's ever met. And she likes that. Long nights stoke Joey and Brittany's desire to stay together, but reality is different when exposed to the harsh light of day. If Brittany goes back to New York, she'll be heartbroken. But she promised herself long ago that she wouldn't ever again live her life looking over her shoulder, wondering what secrets people are hiding and what ugliness lurks in the shadows with no one there to help.
Can she take the small town out of Joey, or can the love of a good man become her new home?
One Last Dance is available for pre-order on all retail platforms.
Amazon | iBooks | Barnes and Noble | Kobo | Google Play